Residential & Commercial Plumbers Spokane WA
Get Fast, Reliable Plumbing Services at Your Spokane, WA Home Or Business.
Plumbing Professionals
You Can Count On
Call Now
I had an emergency at my house and they were so fast to get someone over. They were all booked up for the day but somebody finished work early so they sent them out way. They were able to figure out the problem right away and fixed it for a very reasonable price. will definitely be calling again if I need a plumber in the future

Oenone Shore


The service technicians were so responsive, polite and fast! They were able to install my washer / dryer hookups in 3 hours instead of the planned 8. Great experience. Highly recommend.

Shelli Nemec


George is the best! He replaced problem toilet and shut-off valve. Shaw's does not charge for diagnostic service call. George came, gave us toilet options and an inclusive price, picked up our toilet choice, returned to do a clean installation, removed old unit - all in a seamless and timely opération!

Dan Perdue


Sam did an awesome job fixing a few plumbing issues for us. He was prompt and professional. From the moment I called in to schedule the lady was so nice and professional also. Highly recommend Shaw Plumbing and will definitely use again for any plumbing needs.

Sam Collins


Clay was great. He came out and investigated the issue. Turned out not to be plumbing but he was very helpful, professional, and very responsive. Highly recommend.

Cory Calcut


Have used Shaw Plumbing for 2 hot water heater installs this year. Excellent service. They did a quote on a gas hot water heater yesterday at 2:00 and a new one was installed and ready to go by 4:15. AMAZING Clay is very easy to work with Highly recommend Shaw for all our Plumbing needs

Kathy Myers


November 2019 Shaw installed a walk-in tub. Very smooth and efficient in every way. They ordered it & it looked like a half dozen men came and whipped it into shape . Cleaned up and left us with a beautiful tub. I will never look elsewhere than Shaw for our plumbing needs. The people are really neat! Very happy 😊 with the terrific outcome. Fall of 2018 We were privileged to meet the owner Hank Shaw. We liked him! His honesty and graciousness was so appreciated. Walter repaired our sprinkler system and worked so hard he is also a personable likeable young man. God bless them.

Clara Grace Kohlman kohlman


Sam was excellent. We've worked with other plumbers in the past and Shaw is, by far, the best. Sam called before he arrived and was punctual and thorough. He answered all of our questions, logically diagnosed and solved our problem (a clogged main sewer line). We will only use Shaw moving forward. Don't bother with anyone else.

Jason Goldsmith

Why Choose Shaw Plumbing Services as Your Spokane Plumbers?
The Plumbers at Shaw are committed to outstanding customer service every step of the way. From the moment we take your call, to leaving behind a sparkling clean job site our staff takes pride in knowing your 100% satisfied.
Check out our video to learn more!
We Serve the Needs of Residential and Commercial Clients
Shaw Plumbing Services is locally owned and operated, and we serve clients throughout Spokane, Spokane Valley and surrounding areas.
An Experienced Team – Our friendly plumbers have decades of combined plumbing experience, so we know how to solve any problem that comes our way.
Exceptional Customer Service – We won't consider the job done until you're completely satisfied with our work.
Quick, Quality Plumbing Services – We'll make sure all repairs and installations are completed on your timeline.
What sets Shaw Plumbing apart from other Plumbers in Spokane?
Shaw Plumbing services is dedicated to your customers satisfaction. Our commitment to you, the customer, starts with upfront pricing, free estimates & easy scheduling for all plumbing services. Our dedication to outstanding service continues with fast on time service and clear communication. From the moment you call to when our professionally licensed expert plumbers arrive at your door Shaw Plumbing is here to meet and exceed your needs every step of the way. Additionally, all our plumbing services are backed by an ironclad 1-year warranty with a 7-year warranty on all new water heater installs. These are just a few things that sets Shaw apart from other Spokane plumbers.  But you don't have to just take our word for it, check out what hundreds of satisfied customers have to say.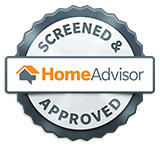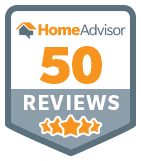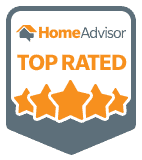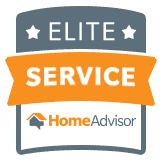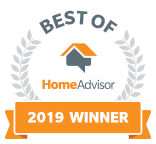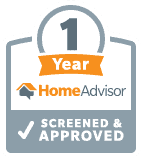 The Shaw Plumbing Service commitment to excellence in customer service is guided by our values:
100% Transparency

Upfront pricing means you know how much a job will cost you.
No hidden fees or extra unexpected charges
Always free estimates by one of our licensed Spokane plumbers

Clear and Concise Communication

We communicate every step of the way
Our office staff is here to enthusiastically answer any questions you have about your service.
Know exactly who is going to show up and when – no guessing or vague estimates.
Our staff follows up to make sure you are 100% satisfied with your plumbing service.

Accountability

Our Spokane plumbers do what it takes to make sure you are completely satisfied.
All our services are backed by our ironclad 1-year service warranty.
All new water heater installs are backed by a 7 year warranty.
With Shaw Plumbing Services you can always count on:
Free estimates
Transparent up-front pricing
Licensed & bonded plumbers Spokane
Communication every step of the way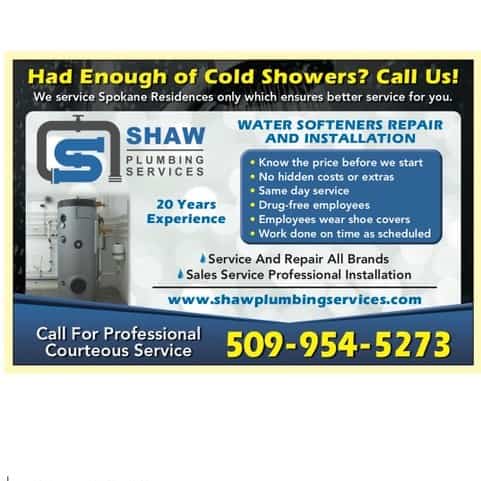 Tired of taking cold showers?
We can repair or replace your water heater
There is nothing worse then expecting to take a nice warm shower then being blasted by a endless stream of freezing cold water. Our highly trained plumbing professionals can quickly identify and fix the problem. Remember that all new water heater installs are backed by our 7-year warranty.
Water Heater Repair
Protect Your Plumbing From Limescale Buildup
If you are starting to notice soap scum in your shower or bathtub, chalky substances on your pipes or are continuously pulling cloudy glassware out of your clean dishwasher it might be time to invest in a water softener.
Water Softening Services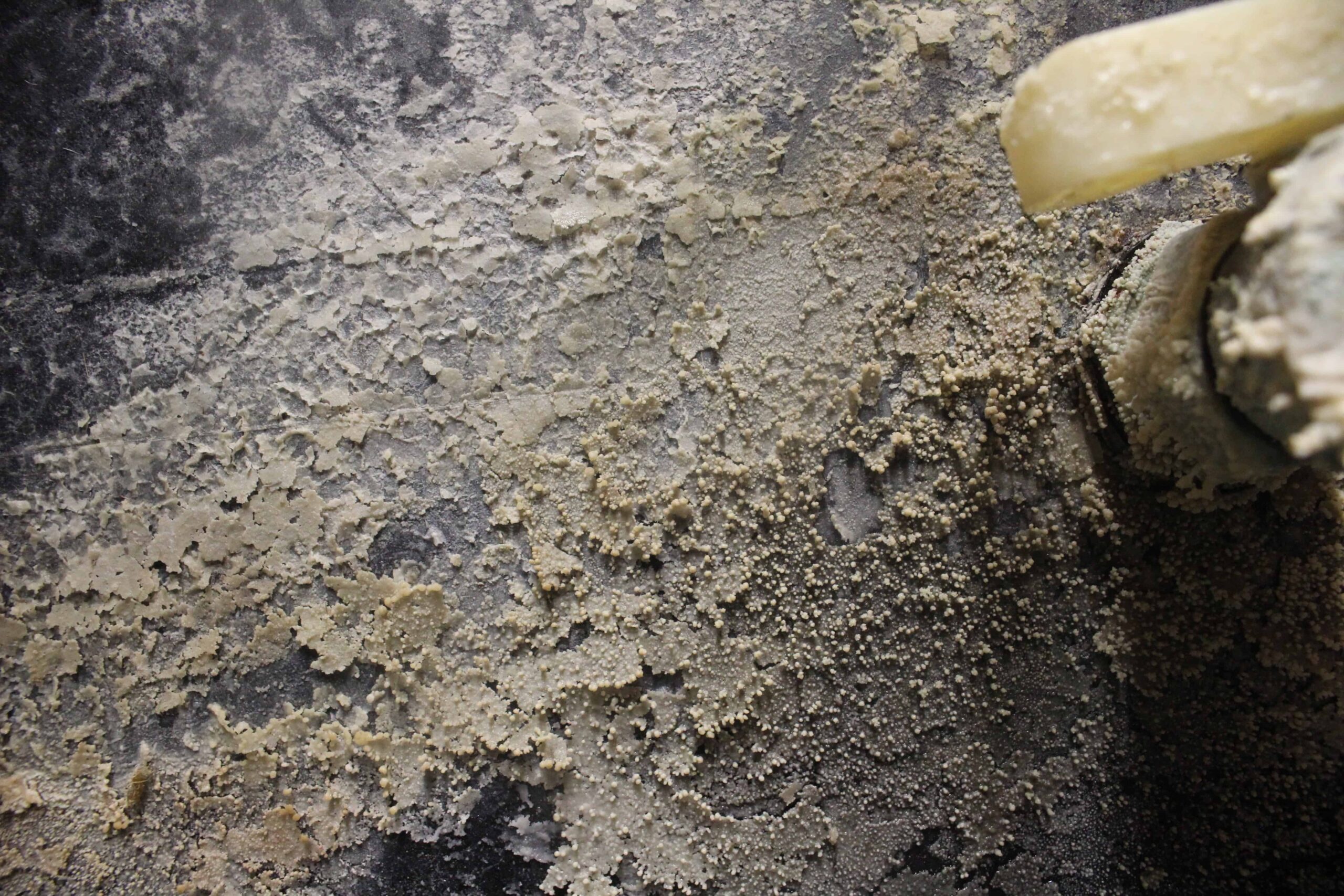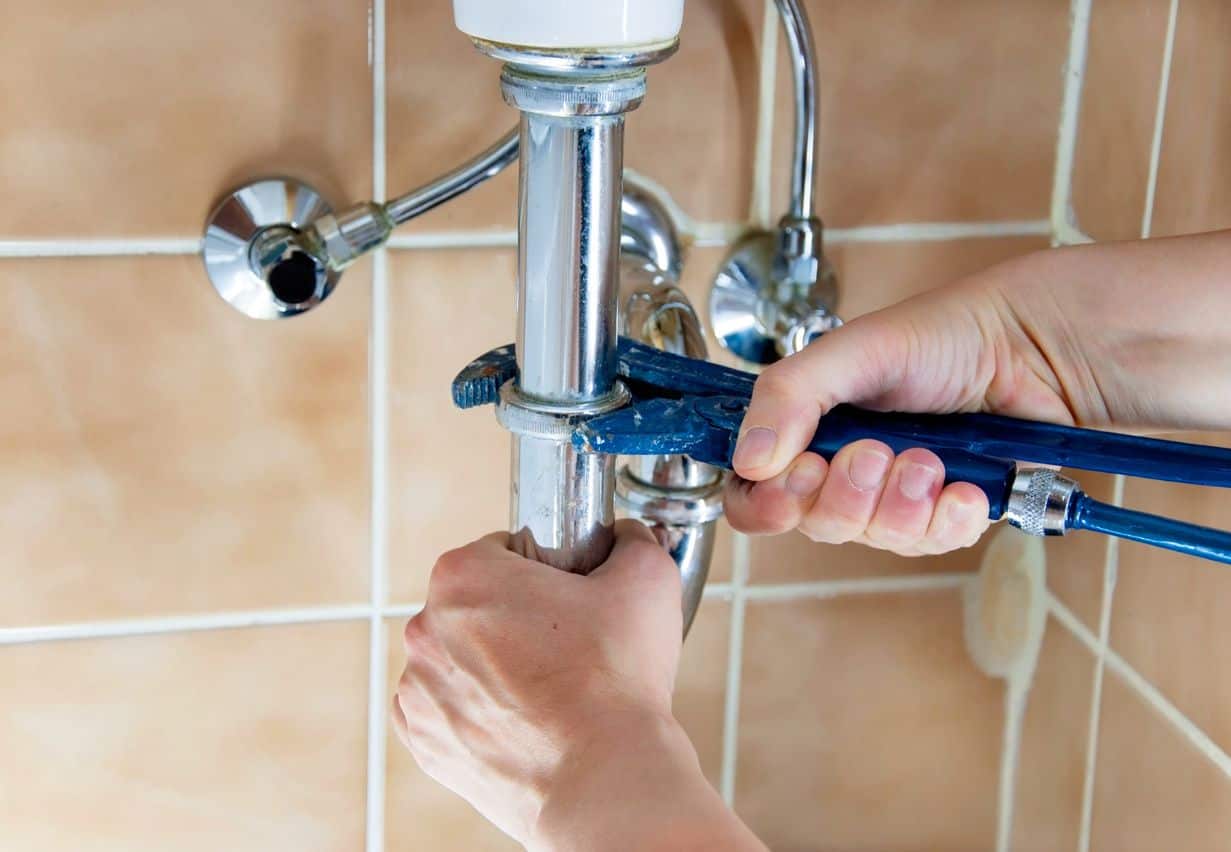 Faucet dripping? Toilet repair? Outside water fixture leak? Garbage disposal backing up?
We've got your plumbing repair needs covered.
At Shaw Plumbing Services we have the know how to handle all your plumbing repairs with a smile. Fast on time service, up front pricing, easy scheduling, and clear communication. Our Spokane plumbing experts have the tools and skills to get your plumbing fixed right.
Plumbing Repairs
Did your business a backflow testing letting in the mail?
You may be curious as to what backflow testing is and why it is important. At Shaw Plumbing Services we've got answers to all your Spokane backflow testing questions. Back pressure, back siphon, backflow prevention device – no need to worry if these terms seem foreign to you, our expert plumbers have answers and solutions.
Backflow Testing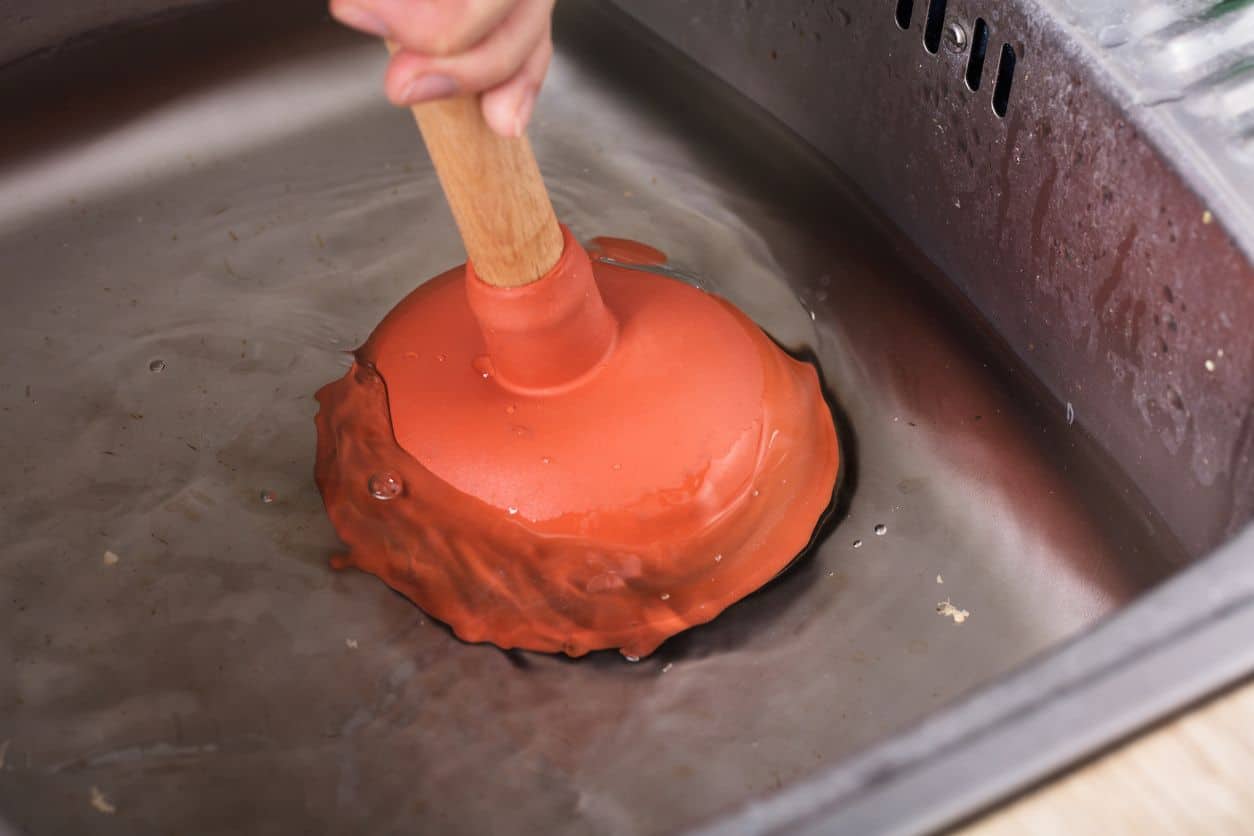 Other Spokane Plumbing Services
Reverse osmosis water purification system
Clean great tasting drinking water right from your home's sink is just a phone call away with Shaw Plumbing Service's reverse osmosis installation service. The bottled water your drinking might not be as clean as you think, a recent study found on average 325 particles of micro plastic per liter of bottled water. The same study also found plastic particles in 94% of US tap water sampled. Reverse osmosis purified water filters water down to .001 microns eliminating plastic debris and pollutants in your drinking water. Call Shaw Plumbing Services to get this remarkable clean water technology in your Spokane home or business.
Commercial plumbing services
Shaw plumbing has commercial plumbing services for you Spokane area business. Weather you have an office building, shop, warehouse, apartment building, motel, or rental house, Shaw plumbing services is here to deliver fast, on time, affordable commercial plumbing service. Our commitment to customer satisfaction applies every bit as much to our commercial clients as our residential customers. Upfront pricing, free estimates, skilled and knowledgeable professional plumbers as just a few reasons to call Shaw Plumbing Services for your next commercial plumbing job. Once again, all our plumbing services are backed by our unwavering 1-year warranty. At Shaw Plumbing service, we have what it takes to earn your commercial plumbing business, as always, you don't have to take our word for it just see what our extremely satisfied commercial plumbing customers have to say.
Garbage Disposal Installation
Easily cleanable, environmentally friendly, and affordable, adding a garbage disposal to your home kitchen has many benefits. If you want to upgrade your kitchen with this convenient feature, just call up your Spokane garbage disposal installation and repair experts at Shaw Plumbing. We can have your kitchen sink disposing of food scraps and culinary refuse in no time. Upfront pricing and free quotes, along with Shaw's unbeatable warranty on service and installation have made us Spokane's choice for garbage disposal installation and repair.
Give us a call today to schedule your garbage disposal install or repair.
509-954-5273
What our Clients Say
We know you have your choice of Spokane Plumbers, that's why at Shaw plumbing services our commitment to you is to provide the very best service every time. You don't have to take our word for it, you can see what some of our hundreds of satisfied customers have to say all over the web. Many Spokane Plumbers claim to provide the best customer service in the town, but at Shaw we prefer to let our reviews do the talking.
Tim reinstalled two toilets for me today. They worked closely with me to try to schedule a time close to when my new floors had been installed. He arrived and had them reinstalled very quickly. He was very professional and went over my next "project" with me so I knew what needed to be done. I will be using Shaw Plumbing again very soon and would recommend them to friends and family.

Shari S.
Excellent experience! Imagine a company that suggests ways to save you money! Work was well done and Tim was a delight to work with as was Carrie on the phone. They answer their phones! I saved at least $800 over other estimates. Highly recommended and quick scheduling.

Beverly G.
Clay was professional and friendly. Explained cost and options prior to doing any work. Was more cost efficient than other estimates I had received. I would definitely recommend their company and will call them again for future plumbing jobs.

Jamie R.
Great service, Tim and Hank go above and beyond. Honest, friendly and such a quick response time. They replaced my electric hot water heater with gas,and they are scheduled to do other work on our new house. I highly recommend them and will use them again.

Germaine S.
Hello everyone, we are a military family that just moved from overseas. We have had some plumbing issues and I gotta say that we've had some bad experiences with other plumbers but Shaw Plumbing definitely took care of our issues. Their prices are very decent and the technician that came out was awesome - thanks Tim. I would recommend these guys to anyone.

Nina W.